Olympiada is ideal for a great holiday, with clear waters and countless walks.
---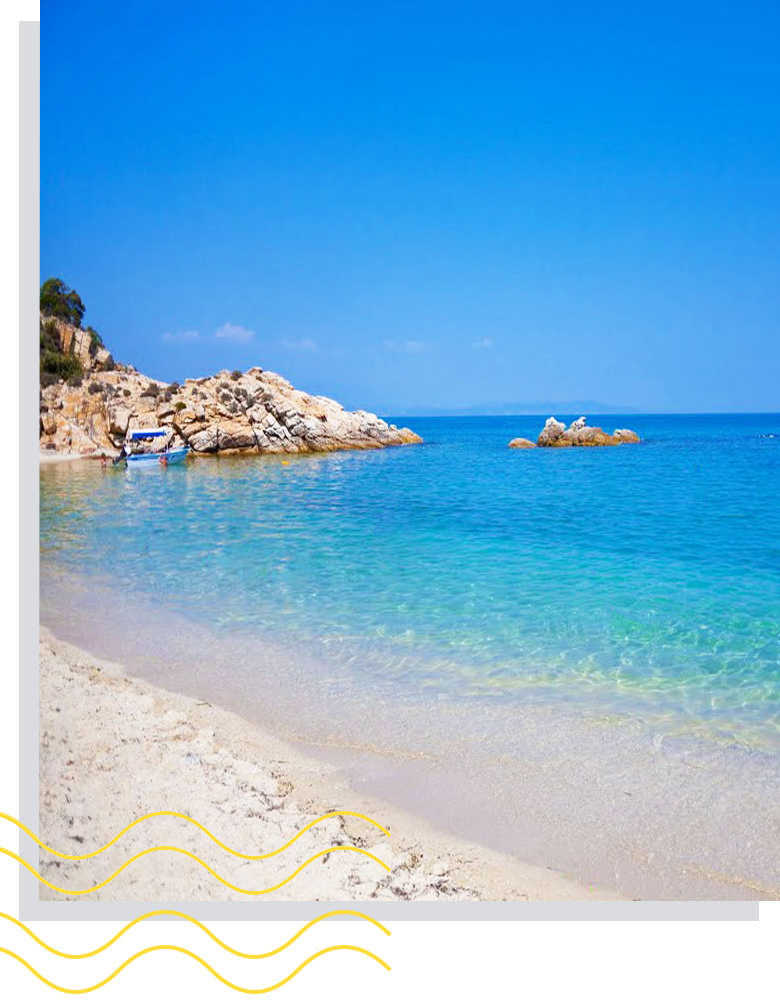 Olympiada is located on the northeastern side of Chalkidiki.
It combines the beauty of the green mountains with the enchanting beaches (Blue Flag 2017) των καταπράσινων βουνών με τις μαγευτικές παραλίες (Γαλάζια σημαία 2017).The main temple is that of "AgiasKiriakis". The church celebrates on 7th of July with events. On the occasion of the celebration, the feast of the mussel is also held. About 700 meters away is the archaeological site of Ancient Stagira, the birthplace of the philosopher Aristotle, which is an attraction for visitors.
The area is protected by Natura 2000. Visitors have the opportunity to enjoy the scenery and swim at the beaches, which are just a short distance from the beautiful village, such as Sykia, Kefalas, First Ammoudia, Vina, Jungle and the Gourgourou.
Olympiada is ideal for a great holiday, with clear waters, walks, and of course a variety of dining options, coffee and drinks.
The outstanding, unique sand beaches of Olympiada
The beach of Olympiada stretches for 700 meters along the entire village and continues for about 1 km to the boundaries of the village, where it meets the Golden Beach. The sea is shallow about 50 meters from the coast and then deepens.
On the beach of Olympiada, the bather can also find organized beach bars with sun loungers and umbrellas as well as free spots, where he can enjoy swimming.
Vasilitsi beach
The first of the three secret beaches of Zepko's area with crystal clear blue-green waters and thick, golden sand. The sea is shallow and the beach is crowned with pine trees. The downhill road to the beach is quite rocky, so it is better to park your car on the main road.The distance from the camping Zepko is about 3 km.
Sikia beach
A small, beautiful, golden beach that is crowned by pine trees that touch the sea. It is located just below the archaeological site of Stagira, the birthplace of Aristotle's greatest philosopher of Greek history and next to the port of Olympiada. It has thick golden sand that does not stick to the feet, and shower facilities. It is not organized and the sea has a medium depth. You can walk there fromOlympiada, since its distance from the village centre is less than 500 meters.
Zepko beach
It is the largest beach in the area. There is no organization with umbrellas and sun beds. The water depth is medium. There are club ownerships so there are fences in some places. It has two entrances from the main road of Olympiada-Stratoni. The northern is about 6 km from Olympiada and the southern leads to the organized camping site of the residents of the village of Stratoniki. From this point and beside the seaside huts for the boats (wires) starts a dirt road to the secrets beaches of the peninsula:Vasilitsi, Diavorvovo and Marmari.
Long beach with fine, blond, sandy and shallow waters ideal for children, especially in the southern end, next to the small bounding rocks